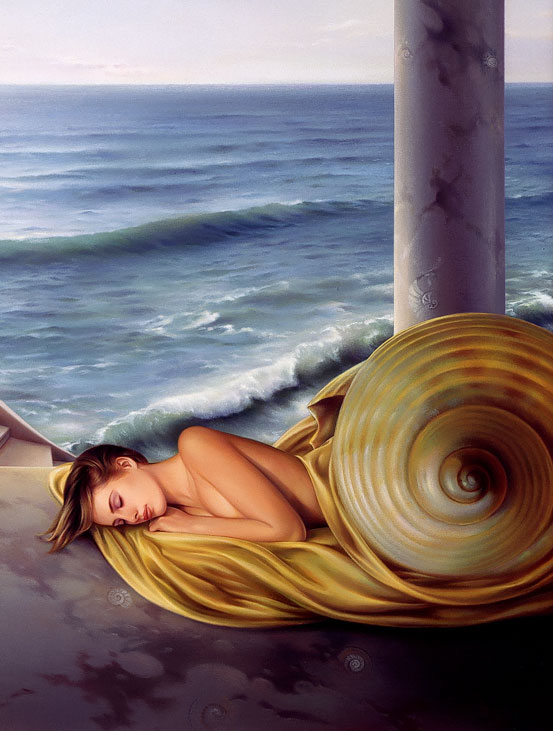 Painting by Jean Paul Avisse
A noble man he is
and colors pass through him
as his hands pour liquid words
in glasses half-empty of emotions
and dried mouths of two yesterdays
ago.
His eyes are looking for
concrete images, subjective details,
density in things which stretch
the metonymies and serenade the metaphors.
I could crown him with the azure beam
of a new part of the speech
if I were acquainted with another conjunction
apart from if.
His face numbs me
for I see my own beauty ascending
behind his sovereignty
and it is lovable not to understand
me when there is only an empty cup of coffee
and a few delicate words between us.
He could rule my perfect lands
in erosion but the clock ticked
awkwardly in me and I surely know
when a lady must refrain herself
from her idiosyncrasies.
What exceeds in him shrinks in me
for the tropics are too close to desire
when Joe Satriani plays The Love Thing,
wrapping Brazil in honey as my eyes
repose in an unnamed emotion.
I have bowed to him and it was delicious
to keep my mouth slightly open,
looking through his polite heart,
thinking of my own embarrassment
and adorable lust.
He is never close enough
to see his dames and vassals,
but maybe his nobility lies in
his mysterious capacity of
awakening my poetic thing,
my sleepy queen of pentacles
sitting on the edge of my dimentionless
dimensions, almost ready to lift the skirt of
the abyss and show him some different tactics of invasion.
A noble man can't understand an effortless vulgar
woman like me.
Karla Bardanza
Copyright©Karla Bardanza 2012