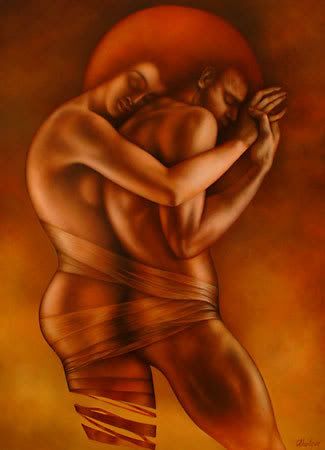 Painting by Odile de Schwilgue
That day in Stratford-upon-Avon,
Shakespeare came undone through
him in The Knot Garden, undressing
the substance of space and the white lilies;
she bathed herself in the liquidity
of his words, in the waters of sonnet 44,
in his plural presence.
The magnetic weightless miracle,
the subtle consciousness of immensity
overflowing, she mirroring him,
she hearing it coming softly,
feetless steps, flesh upon flesh,
senses, the otherness transcending
and swimming in her tenderly.
What shall remain when there is no end?
A poem is buried beneath her,
Somewhere, Shakespeare is looking at them:
her nails scratching down the neck of the past.
Somewhere in her veins.
Karla Bardanza