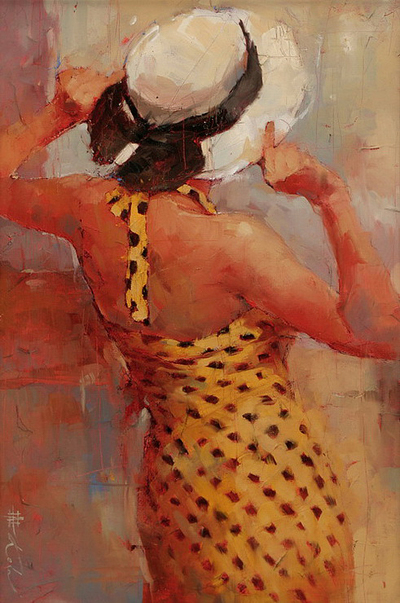 Painting by Andre Kohn
As she walks towards me,
I think of how sad silence can be
when it precedes pre-eternity.
I dig my hands into the absolute,
finding I have nothing to carry
but my own theories and lack
of confidence.
It is difficult to be a woman
when one is expected to be a poetical lie,
a transcendental reader of Elle
for your nails and make-up should be
unforgettable.
Sometimes I wonder how many of us
have become zombies, neglecting our existence
just to please the other as we become
Barbie's sister.
Attitude they say.
The outrages of life I think
for she is coming towards me
and my elaborated reflex is being dissolved.
How intolerable my face is
without a lipstick for them.
My dehydration is evident.
Should I be ashamed of what is uncontrollable?
I am a woman though.
Tomorrow my stubborn angry flesh might
rebel again against the tyranny of our androcentric
demanding society. It is recalcitrant to find out
who you are or have been beneath the blush.
This is who I am: my extra pounds justify my freedom.
Captivity is only for those who never say
what they mean.
I can survive my shortage of feminine attributes.
When she finally embraces me, she will find me
exactly like what I have always been:
a woman of excess, a generous witch (not the Hollywoodian kind
for I don't have a wart on my nose), an awkward crone,
an unpleasant exuberant force.
In the end I will only have myself, I will be my only question.
Karla Bardanza