"Let our scars fall in love."
Galway Kinnell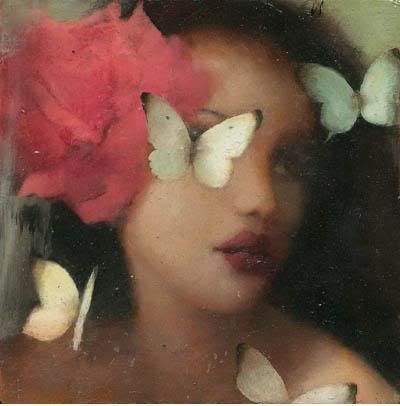 Painting by Stephen Mackey
I showed you my unremembered bruised skin,
pointing to every wound and scar as you tried
to share your heat with me and it is so little
for a woman my age, My Love.
I know you can only unleash your claws
for it is what you have been doing mindlessly
as your temperature blows the thermometer
and the room.
(I understand your eyes and hands)
I simply can't, couldn't:
my mouth is closed, my lifeless body is under control.
I may regret my lack of adventure sabotaging your dreamy script.
I may regret sitting on the sidelines instead of floating gently
down the stream of life (life?)
But there is no logic or common sense right now:
there is only a woman who needs your scars to fall in love again.
(it is not my morals speaking: it is my tremulous heart imploring)
While you can't interpret The Goddess in me,
I will remain where I am frozen and scared
for I am afraid of letting you breath my secrets.
When your hidden poetry gets ready
to align with mine, fetch me after work
at 9:20 pm as you did, but come
with your heart wrapped in sugar.
You will find me where I have always been:
between my wounded calm and fears.
I will be waiting for you, My Love.
Again.
Karla Bardanza
Copyright©Karla Bardanza 2012