Anne Sexton

Suicide Note
by Anne Sexton
"You speak to me of narcissism but I reply that it is
a matter of my life" - Artaud

"At this time let me somehow bequeath all the leftovers
to my daughters and their daughters" - Anonymous

Better,
despite the worms talking to
the mare's hoof in the field;
better,
despite the season of young girls
dropping their blood;
better somehow
to drop myself quickly
into an old room.
Better (someone said)
not to be born
and far better
not to be born twice
at thirteen
where the boardinghouse,
each year a bedroom,
caught fire.

Dear friend,
I will have to sink with hundreds of others
on a dumbwaiter into hell.
I will be a light thing.
I will enter death
like someone's lost optical lens.
Life is half enlarged.
The fish and owls are fierce today.
Life tilts backward and forward.
Even the wasps cannot find my eyes.

Yes,
eyes that were immediate once.
Eyes that have been truly awake,
eyes that told the whole story—
poor dumb animals.
Eyes that were pierced,
little nail heads,
light blue gunshots.

And once with
a mouth like a cup,
clay colored or blood colored,
open like the breakwater
for the lost ocean
and open like the noose
for the first head.

Once upon a time
my hunger was for Jesus.
O my hunger! My hunger!
Before he grew old
he rode calmly into Jerusalem
in search of death.

This time
I certainly
do not ask for understanding
and yet I hope everyone else
will turn their heads when an unrehearsed fish jumps
on the surface of Echo Lake;
when moonlight,
its bass note turned up loud,
hurts some building in Boston,
when the truly beautiful lie together.
I think of this, surely,
and would think of it far longer
if I were not… if I were not
at that old fire.

I could admit
that I am only a coward
crying me me me
and not mention the little gnats, the moths,
forced by circumstance
to suck on the electric bulb.
But surely you know that everyone has a death,
his own death,
waiting for him.
So I will go now
without old age or disease,
wildly but accurately,
knowing my best route,
carried by that toy donkey I rode all these years,
never asking, "Where are we going?"
We were riding (if I'd only known)
to this.

Dear friend,
please do not think
that I visualize guitars playing
or my father arching his bone.
I do not even expect my mother's mouth.
I know that I have died before—
once in November, once in June.
How strange to choose June again,
so concrete with its green breasts and bellies.
Of course guitars will not play!
The snakes will certainly not notice.
New York City will not mind.
At night the bats will beat on the trees,
knowing it all,
seeing what they sensed all day.
Still I Rise
by Maya Angelou
You may write me down in history
With your bitter, twisted lies,
You may trod me in the very dirt
But still, like dust, I'll rise.

Does my sassiness upset you?
Why are you beset with gloom?
'Cause I walk like I've got oil wells
Pumping in my living room.

Just like moons and like suns,
With the certainty of tides,
Just like hopes springing high,
Still I'll rise.

Did you want to see me broken?
Bowed head and lowered eyes?
Shoulders falling down like teardrops.
Weakened by my soulful cries.

Does my haughtiness offend you?
Don't you take it awful hard
'Cause I laugh like I've got gold mines
Diggin' in my own back yard.

You may shoot me with your words,
You may cut me with your eyes,
You may kill me with your hatefulness,
But still, like air, I'll rise.

Does my sexiness upset you?
Does it come as a surprise
That I dance like I've got diamonds
At the meeting of my thighs?

Out of the huts of history's shame
I rise
Up from a past that's rooted in pain
I rise
I'm a black ocean, leaping and wide,
Welling and swelling I bear in the tide.
Leaving behind nights of terror and fear
I rise
Into a daybreak that's wondrously clear
I rise
Bringing the gifts that my ancestors gave,
I am the dream and the hope of the slave.
I rise
I rise
I rise.
Elizabeth Bishop
Love Lies Sleeping
by Elizabeth Bishop
Earliest morning, switching all the tracks
that cross the sky from cinder star to star,
coupling the ends of streets
to trains of light.

now draw us into daylight in our beds;
and clear away what presses on the brain:
put out the neon shapes
that float and swell and glare

down the gray avenue between the eyes
in pinks and yellows, letters and twitching signs.
Hang-over moons, wane, wane!
From the window I see

an immense city, carefully revealed,
made delicate by over-workmanship,
detail upon detail,
cornice upon facade,

reaching up so languidly up into
a weak white sky, it seems to waver there.
(Where it has slowly grown
in skies of water-glass

from fused beads of iron and copper crystals,
the little chemical "garden" in a jar
trembles and stands again,
pale blue, blue-green, and brick.)

The sparrows hurriedly begin their play.
Then, in the West, "Boom!" and a cloud of smoke.
"Boom!" and the exploding ball
of blossom blooms again.

(And all the employees who work in a plants
where such a sound says "Danger," or once said "Death,"
turn in their sleep and feel
the short hairs bristling

on backs of necks.) The cloud of smoke moves off.
A shirt is taken of a threadlike clothes-line.
Along the street below
the water-wagon comes

throwing its hissing, snowy fan across
peelings and newspapers. The water dries
light-dry, dark-wet, the pattern
of the cool watermelon.

I hear the day-springs of the morning strike
from stony walls and halls and iron beds,
scattered or grouped cascades,
alarms for the expected:

queer cupids of all persons getting up,
whose evening meal they will prepare all day,
you will dine well
on his heart, on his, and his,

so send them about your business affectionately,
dragging in the streets their unique loves.
Scourge them with roses only,
be light as helium,

for always to one, or several, morning comes
whose head has fallen over the edge of his bed,
whose face is turned
so that the image of

the city grows down into his open eyes
inverted and distorted. No. I mean
distorted and revealed,
if he sees it at all.
I'm Nobody! Who are you?
by Emily Dickinson
I'm Nobody! Who are you?
Are you -- Nobody -- Too?
Then there's a pair of us!
Don't tell! they'd advertise -- you know!

How dreary -- to be -- Somebody!
How public -- like a Frog --
To tell one's name -- the livelong June --
To an admiring Bog!
The Mysteries Remain
by Hilda Doolittle
The mysteries remain,
I keep the same
cycle of seed-time
and of sun and rain;
Demeter in the grass,
I multiply,
renew and bless
Bacchus in the vine;
I hold the law,
I keep the mysteries true,
the first of these
to name the living, dead;
I am the wine and bread.
I keep the law,
I hold the mysteries true,
I am the vine,
the branches, you
and you.
Amy Lowell
Sea Shell
by Amy Lowell
Sea Shell, Sea Shell,
Sing me a song, O Please!
A song of ships, and sailor men,
And parrots, and tropical trees,
Of islands lost in the Spanish Main
Which no man ever may find again,
Of fishes and corals under the waves,
And seahorses stabled in great green caves.
Sea Shell, Sea Shell,
Sing of the things you know so well
Dorothy Parker
A Certain Lady
by Dorothy Parker
Oh, I can smile for you, and tilt my head,
And drink your rushing words with eager lips,
And paint my mouth for you a fragrant red,
And trace your brows with tutored finger-tips.
When you rehearse your list of loves to me,
Oh, I can laugh and marvel, rapturous-eyed.
And you laugh back, nor can you ever see
The thousand little deaths my heart has died.
And you believe, so well I know my part,
That I am gay as morning, light as snow,
And all the straining things within my heart
You'll never know.

Oh, I can laugh and listen, when we meet,
And you bring tales of fresh adventurings, --
Of ladies delicately indiscreet,
Of lingering hands, and gently whispered things.
And you are pleased with me, and strive anew
To sing me sagas of your late delights.
Thus do you want me -- marveling, gay, and true,
Nor do you see my staring eyes of nights.
And when, in search of novelty, you stray,
Oh, I can kiss you blithely as you go ....
And what goes on, my love, while you're away,
You'll never know.
Sylvia Plath
Candles
by Sylvia Plath
They are the last romantics, these candles:
Upside-down hearts of light tipping wax fingers,
And the fingers, taken in by their own haloes,
Grown milky, almost clear, like the bodies of saints.
It is touching, the way they'll ignore
A whole family of prominent objects
Simply to plumb the deeps of an eye
In its hollow of shadows, its fringe of reeds,
And the owner past thirty, no beauty at all.
Daylight would be more judicious,
Giving everybody a fair hearing.
They should have gone out with the balloon flights and the stereopticon.
This is no time for the private point of view.
When I light them, my nostrils prickle.
Their pale, tentative yellows
Drag up false, Edwardian sentiments,
And I remember my maternal grandmother from Vienna.
As a schoolgirl she gave roses to Franz Josef.
The burghers sweated and wept. The children wore white.
And my grandfather moped in the Tyrol,
Imagining himself a headwaiter in America,
Floating in a high-church hush
Among ice buckets, frosty napkins.
These little globes of light are sweet as pears.
Kindly with invalids and mawkish women,
They mollify the bald moon.
Nun-souled, they burn heavenward and never marry.
The eyes of the child I nurse are scarcely open.
In twenty years I shall be retrograde
As these drafty ephemerids.
I watch their spilt tears cloud and dull to pearls.
How shall I tell anything at all
To this infant still in a birth-drowse?
Tonight, like a shawl, the mild light enfolds her,
The shadows stoop over the guests at a christening.
Edna Vincent St Millay
Love Is Not All
by Edna St. Vincent Millay
Love is not all: it is not meat nor drink
Nor slumber nor a roof against the rain;
Nor yet a floating spar to men that sink
And rise and sink and rise and sink again;
Love can not fill the thickened lung with breath,
Nor clean the blood, nor set the fractured bone;
Yet many a man is making friends with death
Even as I speak, for lack of love alone.
It well may be that in a difficult hour,
Pinned down by pain and moaning for release,
Or nagged by want past resolution's power,
I might be driven to sell your love for peace,
Or trade the memory of this night for food.
It well may be. I do not think I would.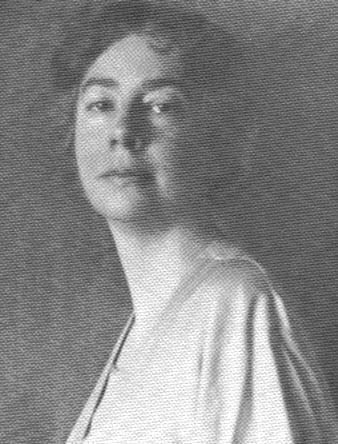 There is no magic any more,
We meet as other people do,
You work no miracle for me
Nor I for you.
You were the wind and I the sea --
There is no splendor any more,
I have grown listless as the pool
But though the pool is safe from storm
And from the tide has found surcease,
It grows more bitter than the sea,